Tongue Card
by
timfoleyillo
See other
Weird Cards
This card is not for the faint of heart, strictly-kitty-loving people! Made by the hands of a true master of illustration,
Tim Folley
, it reminds me of King Crimson's
"In the Court of the Crimson King"
sleeve art. Tim's gallery is full of fine designs and unique ideas -always splendidly executed. It's difficult to chose just a couple of favorites but, since Christmas is not too far away, here's a deadly Santa pictured in an old-fashioned, pulpy way: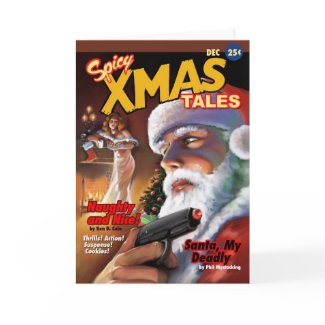 Spicy Xmas
by
timfoleyillo
View more
Christmas Cards
I find this kind of work truly addictive. If you are like me, you would sure like to find more about this artist. Well... lucky you!
Tim Folley has a great site
you can visit, with more illustration goodness.