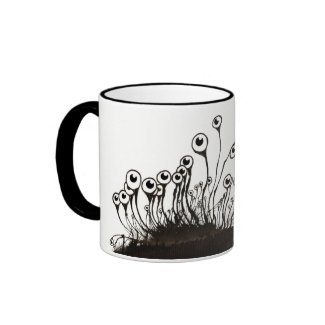 night of the living shoggoth
by
ricstroh
See other
Shoggoth Mugs
Shoggoth-time, here in Surreality Watch and I challenge you: look at this coffee mug -or, I should say, let it look at you- and try to resist! My horror fiction appetite has gotten the best of me lately and I can't seem to get enough of uncanny designs.
Shoggoths, being protean and amorphous monsters of the Chtulhu Mythos, seemed to evade portrayal. Not any more! Richard Strohmayer, the artist behind
The Sketch Aesthetic store
decided to give it a try and came up with this great, wacky illustration. It's really abstract, as it was to be expected from such shifty creatures -and I do mean shoggoths, not artists! I'm sure sipping coffee and staring back at this eldritch deviation, will be a pleasure.
Richard's gallery likes horryfying themes, mostly humorous, including crazy curiosities such as
Zombie Christmas
.