CEPHALOPOD BLUES T-shirt
by
strangeco
See more
Artsprojekt T-Shirts
There I was, sure that I wouldn't feature anything with a commercial logo on it, when suddenly I got a bad case of the Cephalopod blues!
STRANGEco
are well-known "purveyors of the peculiar" after all, and I found that I couldn't resist this weird design (I guess anything tentacled triggers this H.P. Lovecraft/Cthulhu mechanism in my brain!). I love sexy sea monstrosities and this giant squid makes an absolutely great t-shirt. For those who wouldn't want to be caught dead wearing a logo, here's another squidelicious beauty: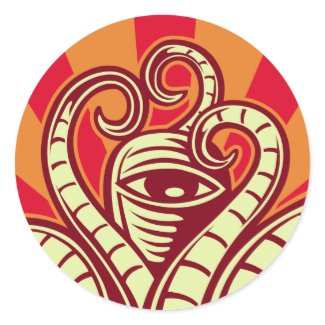 CEHPALOPOD CIRCLE sticker
by
strangeco
Design
stickers
using zazzle
You can find these -plus more fine strangeness- in
STRANGEco's Zazzle store
. And, no, I get nothing in return for being enthusiastic about it, it's all for art's sake! Which reminds me: the artist is the great and famous Reuben Rude and you bet you're gonna love
his marvelous website
!