Here is a second bunch of Christmas cards, hand-picked for being creative, original and crazy -the way we love things here, actually!
(1)

Go Colder
by
Gingerbloke
View other
Magritte Cards
A card to make art lovers happy -inspired by the great Belgian surrealist René Magritte. Countless snowmen float (or just fall, like snow) and bring joy to the world -all wearing the famous black hat!
J.L.Hill's Cornucopia
, where this great card came from, is a great source of funny holiday designs.
(2)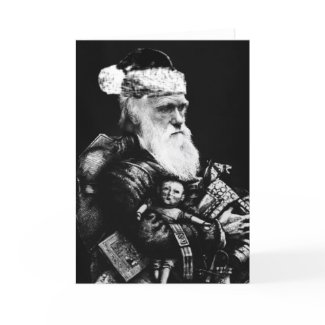 Darwin Atheist Christmas Card
by
Orderofstnick
View more
Atheist Cards
Do you consider the whole Christmas deal a childish, religious set-back of mankind's logic? Well, being human, I'm sure you love holidays too. Atheism deserves his own saints, so to speak, and Charles Darwin, the English naturalist who changed the way we view the world, poses proudly as a non-believer's Santa in this great card from the
Order of Saint Nick
. A clever and funny design from a gallery that specializes in cards. Their surreal ideas for Xmas cards (including
"I saw mommy eating Santa Clauss"
!) are top-notch.
(3)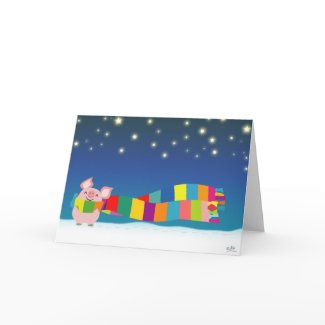 Little Pig's Christmas greeting card
by
Lioness_Graphics
Browse other
Christmas Cards
Happiness, warmth and friendship are the focus of this colorful beauty from
Cheerful Madness
. Nothing traditionall or boring in this card, just a glorious feeling. Plus, I want a scarf like this too (all men are pigs, as they say, so I fit the bill!).
(4)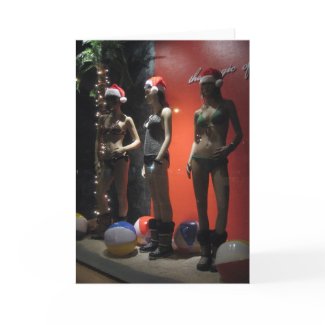 Christmas Bikinis & Boots Card
by
reddesignhead
Design a
custom note card
with zazzle.com
I get an eerie, otherworldly feeling from this card. The contrast of holiday ornaments and those mannequins wearing bikinis in the shop's display makes me think of film-noir movies. An interesting photograph that makes a great card. It relies on the late-night mood it conveys rather than expressed jubilation. Created by
RedDesignHead
.
(5)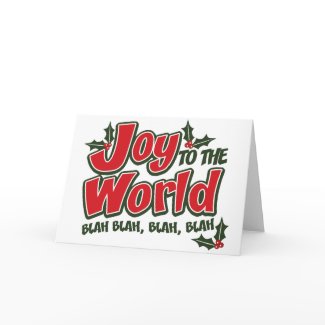 Joy World Blah Blah
by
koncepts
View other
Joy to the world Cards
Lazy Christmas carolers know what this card is all about! A funny typographic design that's sure to bring joy to the world and blah, blah, blah. Short and full of attitude, created by
Koncepts
.
(6)

Nutcracker Suite Christmas Card
by
ChristyDeKoning
Shop all other
cards
at zazzle.com
Last but not least: a fine artwork by
Christy DeKoning
based on the marvelous fairy tale-ballet
The Nutcracker
. Fantastic blue and red hues in this awesome and tender drawing (I particularly like the bluish tree) offered on a really beautiful card!