The holiday spirit is slowly bewitching us all and I think it's time to have a look at some exceptional Christmas cards, just to get all warmed up and ready:
(1)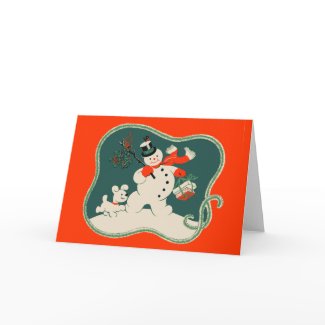 Retro Snowman
by
grnidlady
Design a
picture note card
with zazzle.com
This is an understated card from
Reprise
, a gallery specializing in retro and vintage designs. I like the '40s aesthetics and the lack of glittering embellishments. A warm, old-fashioned design that makes me nostalgic.
(2)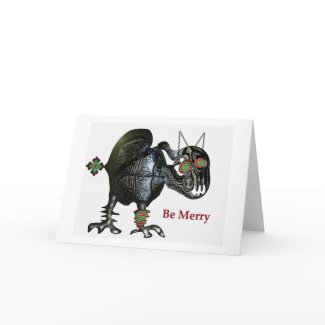 Festive season depression
by
talisbird
Browse other
Festive Cards
This approach, by Anjo Lafin's
Talisbird
store, is completely different. A surrealistic, humorous and bold design of a sad monster hoping for some merrymaking. Thumbs up from me, and may things work out for this little fellow!
(3)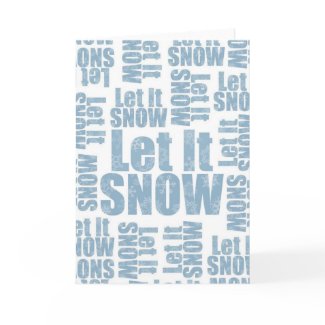 LET IT SNOW
by
PerGis_NOSaints
Shop for another
card
at zazzle
It's snowing words on this unusual
PerGis NOSaints
card. Texture and typography combine to create an upbeat, fresh holiday design. Me likes!
(4)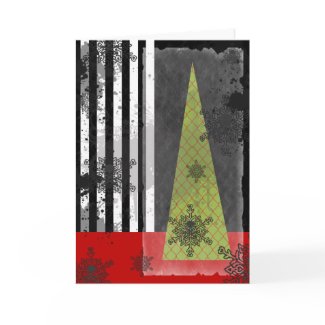 Holiday Spice
by
FlyBella
View other
Unique greeting Cards
An abstract, yet distinctly yuletide, card from
FlyBella
. I love the geometric forms (especially those great vertical lines) and the colors. This gallery offers many beautiful, richly-textured Christmas cards.
(5)

Thin Ice Khristmas Kard
by
chiodobros
Create a
photo note card
online at zazzle
I found this hilarious card, in the characteristic "spooky clown" style of
Chiodo Bros
. and I think it's a killer! Definitely a gallery worth checking for lots of outrageous weirdness of the most creative kind. These brothers deserve their fame and success!