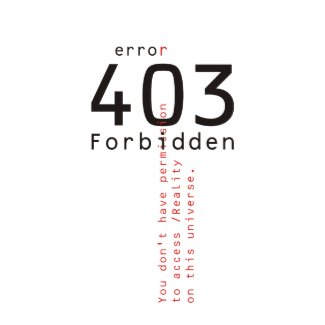 403 Forbidden Reality card
by
surrealitee
Design a
note card
on Zazzle
Most web-surfers have seen the "Error 403, Forbidden" HTTP status code. Some may even remember experiencing a slight uneasiness the first time they saw it -the fear of actually doing something forbidden is deeply instilled on many people.
I came up with this design by posing these questions:
What about our everyday life?
Can we perceive reality outside the boundaries set by our subjective filters?
Could it be that we only see a small fraction of what Is, while we try desperately to translate our experience to others?
Is that experience really translatable or are we lonesome travelers in a world of illusion?
These questions may be too big to be properly expressed by a simple typography design, but, hey, at least it's stylish! You can find it in my new
403 Forbidden Reality
product section and see for yourselves.