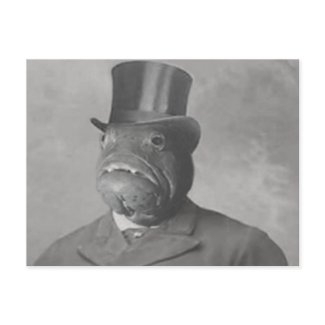 The Innsmouth Look
by
CthulhuCthulhu
Make your own
Post card
on zazzle.com
I'm talking about Cthulhu Mythos of course, the brilliant legacy of Howard Phillips Lovecraft, and the strange designs it inspires.
Let's start with this totally surreal, pseudo-photograph by
CthulhuCthulhu
, a store dedicated to cthulhian creepiness. Have you ever wondered why there was nothing in the family album about the obscure Innsmouth branch? This unique postcard gives you the answer! This amphibian-looking fellow may well be Captain Obed Marsh himself -and slightly reminiscent of
Captain Beefheart's Trout mask replica album cover
.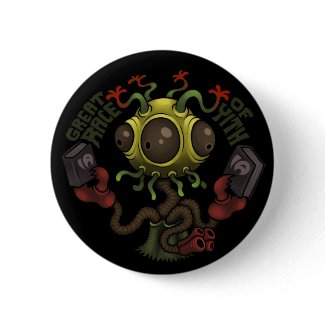 MYTHOS - Yithian
by
scythemantis
Browse
Cthulhu Buttons
The style of
Scythemantis
is quite different. His work is cartoonish and playful, paying an imaginative homage to the Great Race of Yith. Do these yithian tentacles hold the Pnakotic Manuscripts? Scythemantis's work is well-versed and rich in details so I guess the answer is yes.
Finally, I should remind you to check
this older post
about Bradley W.Schenck's magnificent work at
Ars Celtica
. Some of the best Mythos-inspired artwork lurks there, sleeping but not dead!