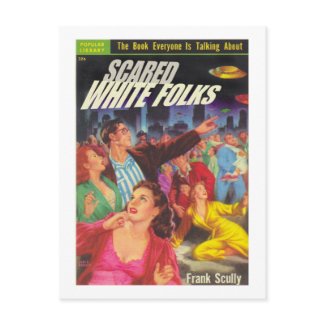 Scared White Folks
by
FbodStudios
See more
Fbodstudios Postcards
This brilliant postcard works on so many levels:
It conjures a humorous nostalgia for cheap sensationalist book covers from the '50s. It parodies both the flying saucer craze
and
the stereotyped "white folk's interests" theme that has white people complaining for stupid things and being smart in useless stuff. It pays a funny homage to
Frank Scully
(the writer who single-handedly created the UFO crash mania back in 1949) by using the original cover from Scully's
Behind the Flying Saucers
book.
Kudos to
FBod Studios
for offering this gem.
[And, yes, F.Scully was the inspiration for Dana Scully's name.]