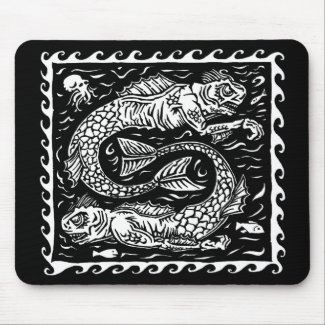 Deep Ones Mousepad
by
Hypnogoria
Create your own mouse pad
on zazzle.com
More news from the dark side, folks, with this splendid woodcut picturing the infamous Deep Ones -yep, you guessed it, we're into H.P. Lovecraft territory again! This b/w design looks like the kind of thing you could find in a dark ancient attic (and would have you wondering about your grandfather's voyages to the Pacific).
Good news is that this little treasure is not the only one of it's kind available. Check the great
Hypnogoria
shop, especially the marvelous
Necronomicon woodcuts
section, and get ready for some jaw-dropping stuff. Need more proof? Here it is:
Midnight card
by
Hypnogoria
Shop for a
greeting card
at zazzle
Being a horror fan, this kind of work makes me feel like a kid in front of a candy store. This gallery's designs are NOT to be shunned! Jim Moon, the artist, has a really
intriguing website
, too. It'll take you treasure-hunting in the land of art and poetry.