I Am Broken Without You Graffiti
by
robgreenleaf
Design a
Custom post card
at zazzle.com
Love lost, heartbreak expressed right on the skin of the city. Someone poured his heart out, adding another personal story on the urban landscape, and
Rob Greenleaf
was there to capture the feeling with this splendid photo.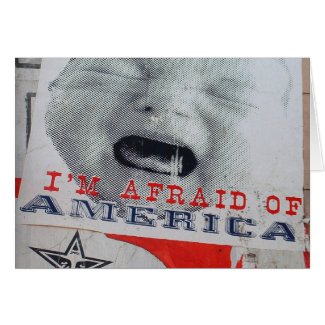 I'm Afraid of America
by
robgreenleaf
View other
Valencia Cards
Rob's photography and fine sense of composition are used to make statements and tell stories. It's not just about postcards, cards and other useful products, it's about focusing on life and sharing the things you see. Overall, a great artist and a great store!
If you're already drooling for more, you should go visit
Rob's blog
, too.