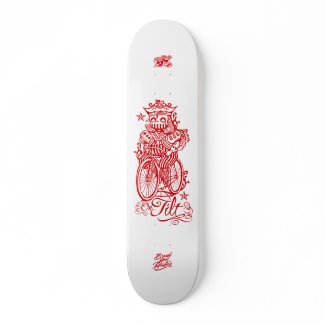 On Tilt
by
BrandNewIntention
Make a
customized skateboard
on zazzle.com
This is a really neat design that makes for a unique skateboard. Behold an exquisite King, based on player cards tradition (he seems to be the King of Spades, even though he is red), riding a bicycle, of all things!
I found this stylish deck on
Brand New Intention
, alongside other great designs, and it sure caught my surreality-seeking eye. It's a collaboration with artist
Bucky Lastard, a really talented guy with an interesting blog
-and a name to remember!