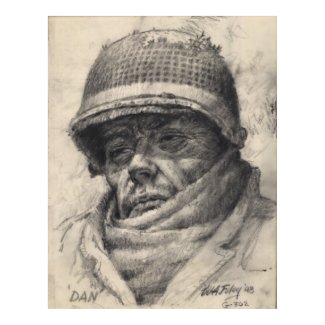 Dan
by
Visionsfromafoxhole
Shop for
art
on zazzle.com
Talking about grisly death: these tired and shocked eyes have seen more than anyone should have to put up with. This drawing does not serve fiction. It is a great poster with a painting drawn by William A. Foley Jr, a World War II veteran and renowned artist, whose craftsmanship gives a narrative of life on the front lines.
It's not often you see such a moving, expressive portrait. I do hope that the soldier depicted made it home and found someone to soothe away this heartbreaking glance. It's not just a work of art, it's a snapshot of mankind's painful march through destruction. Find out more about Mr.Foley and discover his work in his
Visions from a Foxhole
store. Such an artful documentary should not be missed.