Akayo Found Objects
by
akayo1
Poster printing
by zazzle.com
Reinventing. reusing, combining fragments to form a new, meaningful whole is an enchanting process. I have a soft spot for artwork that finds exciting ways to deal with the past and the mundane. This poster - a collage created from found objects- by
Akayo
was an instant favorite.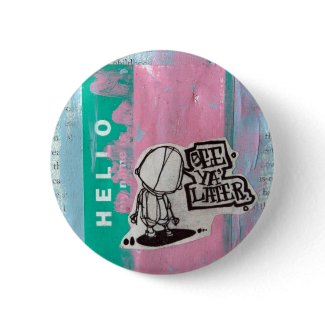 441803119_31302392f1_o
by
akayo1
Browse all
buttons
on zazzle
You don't need big surfaces to get a wonderful piece of art. Akayo's talent impresses even in the tiniest format of this fine pin button. His sense of colors and the graffiti character and slogan is delicious! From stickers to city walls, from galleries to skateboards: this artist from San Francisco Bay Area knows no boundaries.
If his store isn't enough for you, there's more beauty to explore in his
website
.