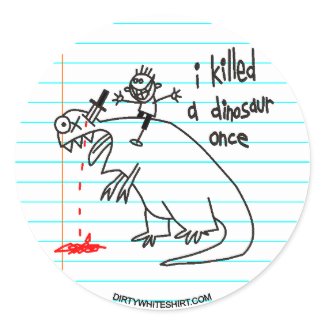 I killed a dinosaur once.
by
dirtywhiteshirt
sticker printing
done with zazzle.com
Childlike drawings that tell fanciful stories: that's what
Dirty White Shirt
is about and that's why it's great. Bone-crushing moose, man-eating bucks and (my all time favorite) the day when I killed this
really
big, terrible dinosaur. Don't you wish you had that on a sticker? Now you can! What else do you want for Christmas, anyway?
[I wish I was a dragon slayer. And an astronaut.]