Even Don Quixote would find it a tough deal to attack this ominous mill. An otherworldly sense of doom prevails in this gloomy design by
MDKgraphics
. This is no surprise, since the gallery's designs have a tendency to picture the dark side. UFO's, aliens, horror,dark fantasy, fetish are the main thing here -often with a humorous touch.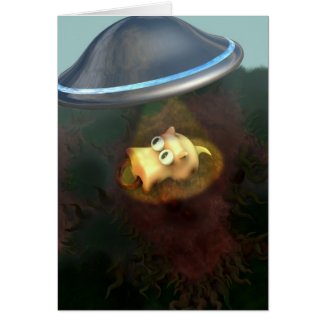 Funny Pig UFO Abduction Card
by
MDKgraphics
Browse more
Ufo abduction Cards
Abductions can be funny (at least if you're not the poor, surprised pig in this card) but the Canadian artist that lurks behind MDKgraphics is at his best when portraying the paranormal. Did I mention that Surreality Watch loves the paranormal? If you do too -and otherwise you wouldn't be reading this- have a closer look at his work.