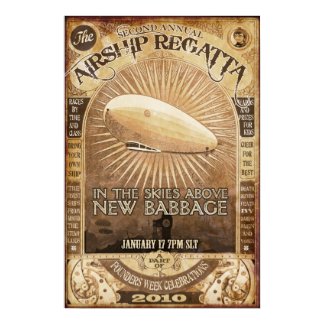 2nd Babbage Airship Regatta Poster
by
orbis360
Learn
how to sell artwork
on Zazzle
New Babbage, the magnificent steampunk city in Second Life is the place where steampunk-minded people from around the world gather to roleplay and create imaginative technology extravaganzas. This fine poster celebrates the city's second annual Airship Regatta that took place at the beginning of 2010. It's a great souvenir from the real life surrealism of having strange and unique worlds to explore (and, in a way, to inhabit) right at your fingertips. Plus, who doesn't love airships?!
You can find this print -and many others- in
Steamweaver General Merchandise
, the ultimate shop for all things concerning New Babbage. The designer and shop-owner comes by the name of Aeolus Cleanslate, which is really distinguished for an avatar if you ask me.