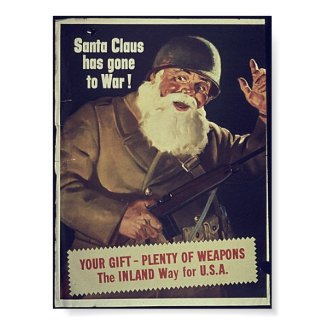 WW1 Santa
by
burbankpilot
Poster printing
from zazzle
Extreme times give birth to extreme measures -and weird propaganda. This poster's Santa wears a helmet and an army outfit and carries a rifle. His gift in War World I times was weaponry for the soldiers fighting the most devastating war the world had known.
This vintage print (picturing one of the strangest "Ho, ho, ho" situations I've seen) is found at
BurbanKPilot
, the store of photographer Ron Irwin. It's a great illustration that captures the spirit of wartime holidays.