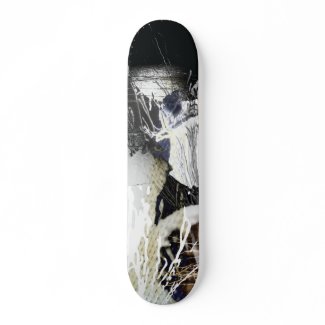 Stan
by
RAWdesigns
create skateboard
decks at zazzle.com
I recently found these wonderful skateboard decks and I couldn't wait to write about them! They are almost monochromatic (apart from a slight yellow tint on
Stan
and a blue one on
Angel
). Both are true works of art: odd, dark, gritty, moody and so well-balanced in their design that they grasp your attention at first sight.
The first one is from
RAW Designs
(RAW standing for Ryan Anthony Wolper, a new designer from Maryland) and the one below is from
3131 Theory
(aka B. Hayden Arban and Patrice Vandehey, Texan artists and designers). Their stores offer real treasures and they certainly deserve your attention!
Angel
by
3131theory
Buy
skateboard
decks at zazzle.com
I should note that all decks on Zazzle.com can also be ordered complete, with Independent Trucks, Ricta Naturals wheels, Bullet bearings, grip tape, and mounting hardware.